To summarize

Our new location in


Antibes - 06160


Le Réminiscence

Delivery 3rd Trimester 2024

Work in progress

Apartments from 2 to 4 rooms
starting from 280 000 €

Garage/Parkings
starting from 22 000 €
The + of the program
Un emplacement idéal
À 5 min des plages
À 15 min de la technopole de Sophia Antipolis
Une architecture moderne
Residence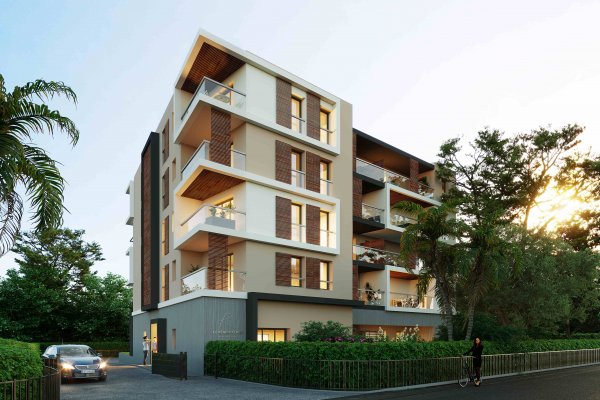 Une adresse idéale

entre ciel et mer !
Plus que quelques logements neufs disponibles !
Vous êtes à la recherche d'un bien immobilier neuf sur la ville d'Antibes ? Retrouvez toutes nos opportunités ici !
---
Découvrez notre nouvelle résidence : Le Réminiscence !
Une adresse idéale à Antibes Juan-les-Pins au pied de tous plaisirs et commodités.
Vous pourrez ainsi concilier facilement toutes vos activités, qu'elles soient professionnelles, familiales, culturelles ou sportives.
Du 2 pièces au 4 pièces profitez d'appartements neufs aux prestations de qualité dans un immeuble moderne.
Vivre au soleil... entre le ciel et la mer telle est la promesse de la résidence Le Réminiscence.
Vous profiterez tout au long de l'année de ses espaces ouverts vers l'extérieur. De belles ouvertures qui confèrent aux espaces de vie une luminosité naturelle et généreuse.
Un emplacement idéal pour savourer pleinement la vie sur la Côte d'Azur.
La résidence Le Réminiscence est éligible aux dispositifs PINEL et PTZ (Prêt à taux Zéro). Elle répondra aux exigences de la Réglementation Thermique RT 2012 et sera certifiée NF Habitat HQE (Haute Qualité Environnementale).
Neighborhood
Un emplacement unique

sur la Côte d'Azur
À mi-chemin entre Nice et Cannes, Antibes Juan-les-Pins est une station balnéaire idéalement située sur la Côte d'Azur. Elle offre une qualité de vie exceptionnelle entre mer et Alpes.
Avec ses vingt-trois kilomètres de littoral, Antibes Juan-les-Pins possède de nombreux atouts tant environnementaux, culturels, historiques et économiques. Elle s'inscrit de plus dans une démarche de transports en commun propres et tournés vers l'avenir ainsi que dans une politique d'aménagement de pistes cyclables et de zones piétonnes.
Antibes Juan-les-Pins est indéniablement la ville de toutes les ambiances. De Pablo Picasso à Claude Monet, mais aussi Prévert, Audiberti, Guillaume Musso ou Somerset Maugham, de nombreux artistes ou écrivains ont choisi Antibes comme source d'inspiration.
Candidate au titre de « Capitale française de la culture » en 2022, Antibes offre de plus une vie culturelle riche et intense.
La proximité immédiate avec la technopole de Sophia-Antipolis et l'aéroport de Nice confère à la ville diversité et dynamisme.
Le Réminiscence, un art de vivre à 5 min à pied de la plage et 15 min en voiture de Sophia-Antipolis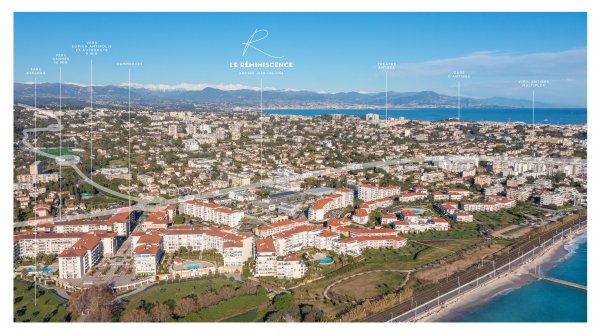 Transports

Shops
& services
Education
& culture
Sports
& hobbies
The property has a price

discover it right now
Apartment

2 rooms
Up to 45 m2
Starting from 280 000 €
Lot N°
surface
Annexes
plan
High demand!
surface 45 m2
14 people
have already seen this apartment
Contact us
Apartment

3 rooms
Up to 63 m2
Starting from 380 000 €
Apartment

4 rooms
Up to 92 m2
Starting from 1 090 000 €
Parking
-
Starting from 22 000 €
Lot N°
surface
Annexes
plan
Cellar
-
Starting from 6 000 €
Lot N°
surface
Annexes
plan
Sales office
Advice, questions?
We meet with you,
you see more clearly.
Sales Area
39 avenue de cannes
06160 Antibes
opening hours
Renseignements et vente : Du lundi au samedi de 10h00 à 12h30 et 14h00 à 18h30.
Contact us
04 48 20 30 35
Similar programs
Wishing to access more choices?
We offer, you find.