To summarize
Our new location in


Aix-en-Provence - 13100


Bastide Bibémus

Delivery 3rd Trimester 2025

Work in progress

Apartments from 2 to 4 rooms
starting from 295 000 €

Garage/Parkings
starting from 20 000 €
The + of the program
À quelques minutes de l'hypercentre d'Aix-en-Provence
Une petite copropriété de 23 logements seulement
Vues dégagées
Au coeur d'un environnement verdoyant
Residence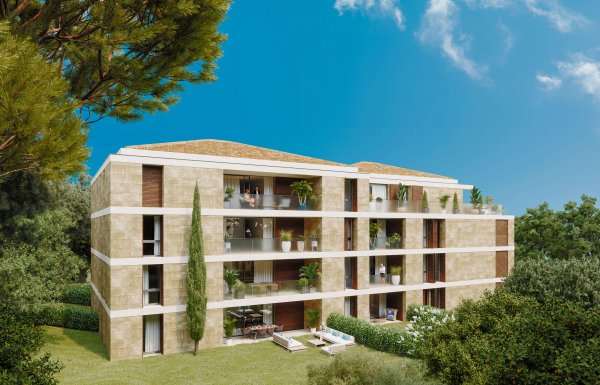 Bastide Bibémus,

l'intimité d'un écrin naturel
TRAVAUX EN COURS !!!
---
Découvrez votre nouvelle résidence Bastide Bibémus à Aix-en-Provence !!
Au cœur d'un environnement naturel verdoyant et à quelques minutes de la Rotonde et du Cours Mirabeau, votre nouvelle résidence de 23 appartements seulement vous propose une collection d'appartements neufs haut de gamme du 2 au 4 pièces.
Avec ses vues dégagées, ses belles terrasses et jardins privatifs ou encore son magnifique jardin paysager en pied d'immeuble, Bastide Bibémus tient sa promesse de quiétude et de sérénité.
Fidèle à l'esprit des bastides de Provence, votre nouvelle résidence renouvelle les codes architecturaux des demeures d'antan.
Un élégant parement de pierres typiquement aixoises et une toiture de tuiles à quatre pans habillent l'immeuble, tandis que de généreuses terrasses sculptent ses façades minérales.
Bastide Bibémus sera certifiée NF Habitat, une garantie de valeur en matière de qualité de vie, de respect de l'environnement et de performance économique.
Neighborhood
Torse, Pont de Béraud,

entre le coeur Aixois et la Sainte-Victoire
Ville dotée d'un patrimoine historique et culturel sans équivalent, Aix-en-Provence est un musée à ciel ouvert.
Le Pays d'Aix est également un pôle économique et universitaire dynamique :
La technopole de l'Environnement Arbois-Méditerranée ou le campus d'innovation numérique TheCamp comptent parmi les chefs de file d'une dynamique de rayonnement international.
C'est également un pôle universitaire de renommée internationale qui participe à la vitalité d'Aix-en-Provence comptant trois facultés, notamment la faculté de droit, des IUT, l'Institut d'études politiques (Sciences Po), l'Institut d'Administration des Entreprises (IAE), et l'International Bilingual School of Provence (IBS).
À quelques minutes de la Rotonde et du Cours Mirabeau, ce quartier résidentiel est une adresse particulièrement prisée pour sa qualité de vie et sa proximité avec l'hypercentre d'Aix-en-Provence.
Vous y bénéficierez d'un environnement naturel préservé, sur la route des magnifiques paysages du massif de la Sainte-Victoire. Desservi par plusieurs lignes de bus, le quartier est par ailleurs très bien pourvu en commerces, services et établissements scolaires.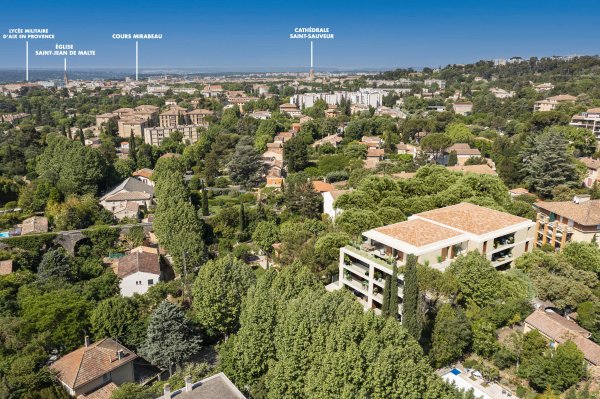 Transports

Shops
& services
Education
& culture
Sports
& hobbies
The property has a price

discover it right now
Apartment

2 rooms
Up to 41 m2
Starting from 295 000 €
Lot N°
surface
Annexes
plan
Apartment

3 rooms
Up to 70 m2
Starting from 397 000 €
Lot N°
surface
Annexes
plan
High demand!
surface 70 m2
12 people
have already seen this apartment
Contact us
Apartment

4 rooms
Up to 91 m2
Starting from 830 000 €
Parking
-
Starting from 20 000 €
Lot N°
surface
Annexes
plan
Cellar
-
Starting from 5 000 €
Lot N°
surface
Annexes
plan
Sales office
Advice, questions?
We meet with you,
you see more clearly.
Sales Area
23A Avenue Victor Hugo - Chez Mon Bureau Aixois
13100 Aix-en-Provence
Contact us
07 77 28 43 34
Similar programs
Wishing to access more choices?
We offer, you find.