To summarize

Our new location in


Nice - 06300


Signature

Delivery 2nd Trimester 2024

Last opportunities

Apartments from studio to 3 rooms
starting from 228 000 €

Duplex 3 rooms
starting from 590 000 €

Garage/Parkings
starting from 29 000 €
The + of the program
Belles vues sur le square arboré Normandie Niemen
Appartements connectés avec le système SMARTHAB
À quelques minutes des célèbres Places du Pin et Arson
Station Vélo Bleu devant la résidence
Arrêt de tramway à 300m
Residence
Signature,

Au cœur de Nice
Dépêchez-vous, plus que 4 appartements disponibles !
Vous êtes à la recherche d'un logement neuf dans la ville de Nice ? Voici toutes nos résidences neuves ici !
---
Une nouvelle adresse se dessine au cœur de Nice, aussi vivante qu'inspirante !
Découvrez votre résidence Signature, une adresse rare en cœur de ville dans le quartier authentique de Riquier et du Port de Nice.
Déclinés du studio au 4 pièces duplex, les appartements sont ouverts sur un espace extérieur bénéficiant d'une très belle luminosité grâce à de larges baies vitrées. Pour une vie d'aujourd'hui, ils seront également connectés grâce au système SMARTHAB afin de pouvoir gérer ses volets roulants et chauffage à distance.
Tous les studios sont équipés d'une cuisine aménagée comprenant hotte aspirante, plaque chauffante 2 feux et frigo table top !
Privilège rare en ville, les appartements côté est, offrent de belles vues dégagées sur le Square arboré Normandie Niemen et la colline du fort du Mont Alban.
Un emplacement idéal avec une station Vélo Bleu devant la résidence, à 3 minutes à pied de l'arrêt de Bus ligne 03-37, à 300 m du tramway et à 400 m de la gare SNCF.
Avec le respect des normes les plus exigeantes, tous les appartements bénéficieront de l'Isolation thermique RT 2012 et la certification de qualité NF HABITAT.
La Capitale de la Côte d'Azur ensoleille votre avenir !
Neighborhood
Riquier, le Port,

Une adresse hyper connectée
Qui n'a jamais rêvé d'une adresse idéale en cœur de ville où l'on oublie la voiture pour se déplacer ? À Riquier, c'est une réalité !
Ecoles, université, activités sportives et culturelles, ici tout devient simple.
En retrait du Boulevard Delfino, arboré et riche de petits commerces, à seulement quelques minutes des célèbres Places du Pin ou Arson, le quartier du Port, prisé et stratégique promet un quotidien parfait et animé.
On s'y déplace en vélo ou en tramway, les enfants se rendent à pied à l'école, ont part travailler en train.
C'est un nouvel art de vivre qui vous attend ici !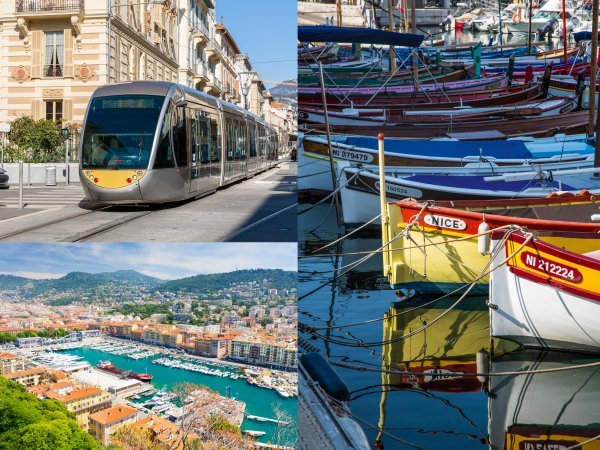 Transports

Shops
& services
Education
& culture
Sports
& hobbies
The property has a price

discover it right now
Apartment

1 room
Up to 26 m2
Starting from 228 000 €
Apartment

3 rooms
Up to 64 m2
Starting from 395 000 €
Duplex

3 rooms
Up to 77 m2
Starting from 590 000 €
Parking
-
Starting from 29 000 €
Lot N°
surface
Annexes
price
plan
High demand!
-
13 people
have already seen this apartment
Contact us
-
12 people
have already seen this apartment
Contact us
Sales office
Advice, questions?
We meet with you,
you see more clearly.
Sales Area
9A Rue Massenet
06000 Nice
opening hours
Renseignements et vente : Du mardi au samedi, de 10h à 12h30 et de 14h à 18h30
Contact us
04 48 20 30 29
Similar programs
Wishing to access more choices?
We offer, you find.