To summarize
Our new location in


Urrugne - 64122


Villas Erlaitza

Delivery 4th Trimester 2023

Work in progress

Villa 5 rooms
starting from 1 890 000 €
The + of the program
VISITEZ VIRTUELLEMENT VOTRE VILLA GRACE A NOTRE NOUVEL OUTIL 3D !
Sur les hauteurs de Socoa et dominant la baie de Saint-Jean-de-Luz
Une situation idéale avec plages et commerces accessibles à pied
Un domaine intimiste haut-de-gamme privé et sécurisé
9 villas d'exception avec piscine privée chauffée ou spa
Residence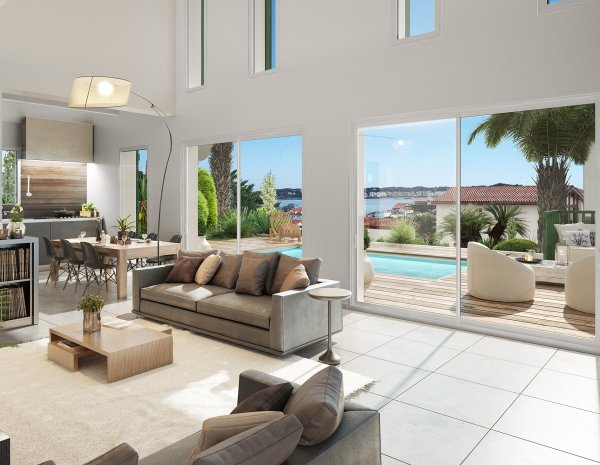 Un domaine d'exception

avec vue sur l'océan
Plus qu'une villa 6 pièces disponible !
Vous êtes à la recherche d'un appartement neuf aux alentours d'Urrugne ? Retrouvez tous nos programmes immobiliers ici !
---
À quelques minutes à pied de la plage, du fort de Socoa et de Saint-Jean-de-Luz, idéalement situé sur la Corniche, nichées dans un domaine clos et sécurisé, découvrez un domaine sans égal composé de 9 villas d'exception avec piscine individuelle chauffée ou spa dominant la baie de St-Jean-de-Luz et la colline de Bordagain...
Produit rare sur la Côte basque !
Neighborhood
Plage à pied

et commerces de proximité !
Perchées sur la "Corniche Basque" ("Erlaitza" signifie corniche en basque), dans un environnement préservé et pavillonnaire, les Villas Erlaitza bénéficient d'un emplacement absolument unique sur la Côte Basque !
Le domaine se situe à moins de 500m de l'embouchure de l'Untxin et de la magnifique plage de sable fin de Socoa. Compter de 5 à 10 min pour rejoindre la plage à pied. Pour les plus avertis, la très charmante plage protégée du Fort de Socoa est à moins de 15 min à pied !
Les Villas Erlaitza bénéficient également de nombreux commerces et services de proximité, tous accessibles en moins de 10 min à pied : épicerie, boucherie-charcuterie, boulangerie, maison de la presse, pharmacie...
Une adresse idéale pour vous constituer un patrimoine immobilier en devenant propriétaire de votre résidence principale ou secondaire sur la côte basque !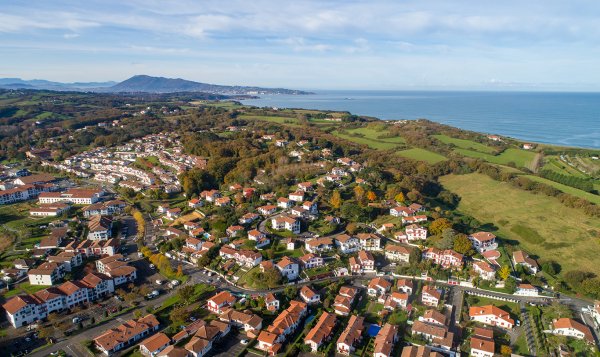 Transports

Shops
& services
Education
& culture
Sports
& hobbies
Sales office
Advice, questions?
We meet with you,
you see more clearly.
Sales Area
22 Rue Calitcho
64122 Urrugne
opening hours
Sur rendez-vous
Contact us
05 59 59 27 34 ou 06 20 10 77 43
Similar programs
Wishing to access more choices?
We offer, you find.