To summarize

Our new location in


Capbreton - 40130


Cap Biscaye

Delivery 1st Trimester 2025

Commercial launch

Apartments from 2 to 4 rooms
starting from 460 000 €

Duplex from 3 at 4 rooms
starting from 850 000 €

Roof Villa 4 rooms
starting from 1 300 000 €
The + of the program
Au cœur du Triangle d'Or de Capbreton, un emplacement rare et exceptionnel
A seulement quelques mètres de l'océan, du front de mer et du port
Une résidence haut-de-gamme et intimiste avec stationnements privés
Appartements et villas avec prestations de standing
Nombreux commerces et services à proximité immédiate
Residence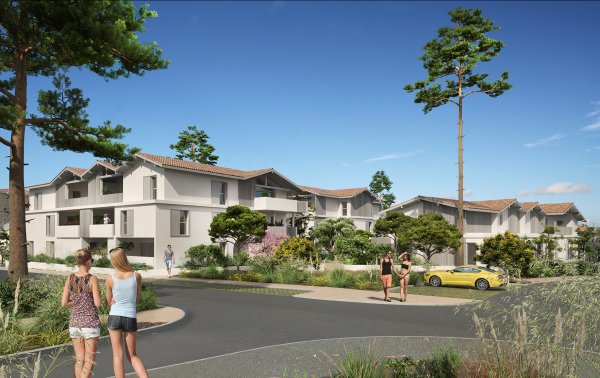 Cap Biscaye,

l'exception à 2 pas de l'océan
Fièrement érigée au cœur du Triangle d'Or de Capbreton, à seulement quelques mètres de l'océan, la résidence Cap Biscaye jouit d'un emplacement absolument unique !
Elégante et prestigieuse, la résidence Cap Biscaye se distingue, dès le premier regard, par son style moderne et épuré, son architecture audacieuse et sa qualité de construction.
Appartements ou villas, du T2 au T5, toutes vos envies sont ici réalisables !
Vous êtes investisseurs et vous cherchez à constituer votre patrimoine et défiscaliser ? Profitez des avantages du dispositif fiscal PINEL ! (Eligibilité sous conditions).
Neighborhood
Capbreton,

le charme au naturel
Chic et élégante, Capbreton s'étire sur plus de 4 km de littoral à l'ombre des pins, des châtaigniers et des chênes liège.
Réputée pour ses longues plages de sable fin, ses vagues de légende, ses pistes cyclables, ses espaces naturels, son front de mer convivial et son port de plaisance unique dans les Landes, Capbreton dégage un charme singulier tout simplement irrésistible.
Voisine d'Hossegor et de Seignosse, Capbreton concilie le prestige de l'une des plus belles stations balnéaires du littoral aquitain, l'authenticité d'un village de pêcheurs de baleine fondé il y a plus de 800 ans et le dynamisme d'une commune dans l'air du temps, attachante, débordant de vie été comme hiver.
À quelques dizaine de mètres seulement de la plage centrale, mais à l'abri des embruns, la résidence Cap Biscaye vous offre le très rare privilège de bénéficier de la proximité immédiate de l'océan sans ses inconvénients.
Transports

Shops
& services
Education
& culture
Sports
& hobbies
The property has a price

discover it right now
Sales office
Advice, questions?
We meet with you,
you see more clearly.
Sales Area
Rue de Québec
40130 Capbreton
Contact us
07 50 59 52 28
Similar programs
Wishing to access more choices?
We offer, you find.