To summarize

Our new location in


Bassussarry - 64200


Belatza

Delivery 2nd Trimester 2023

Commercial launch

Apartments from 2 to 3 rooms
starting from 270 000 €
The + of the program
A Bassussarry, un charmant petit village typiquement basque
Idéalement situé au cœur du village, à proximité des commerces et services
Des appartements neufs, lumineux et offrant de belles vues dégagées
Belle terrasse et/ou jardin privatif pour chaque appartement
Idéal pour une résidence principale ou un investissement locatif aux portes de Biarritz
Residence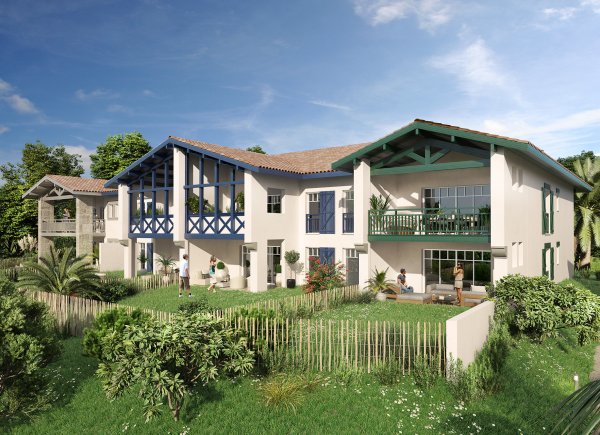 Résidence BELATZA,

un lieu de vie idéal dans un joli environnement de verdure
Belatza : votre nouvelle résidence intimiste au centre-bourg de Bassussarry, une adresse idéale aux portes de Bayonne, Anglet et Biarritz et à proximité des plages !
---
Situé au cœur d'un vaste terrain paysager de près d'un hectare à proximité immédiate de tous les commerces et services, la résidence Belatza vous propose 36 appartements, disséminés dans 3 petits bâtiments, idéals pour votre résidence principale ou pour un investissement locatif de qualité !
Devenez propriétaire d'un appartement, bénéficiant de larges terrasses ou de jardins privatifs conçus pour offrir de superbes vues sur les paysages verdoyants des alentours.
Pour habiter ou investir, la résidence Belatza est éligible aux dispositifs PINEL et PTZ (Prêt à Taux Zéro). Elle répondra également aux exigences de la Réglementation Thermique RT 2012 pour des logements économes et sera certifiée NF Habitat.
Neighborhood
Bassussarry

un charmant village basque aux portes du BAB
Réputé pour son cadre de vie exceptionnel, Bassussarry forme avec les villages voisins d'Arcangues et d'Arbonne un véritable triangle d'or prisé des investisseurs comme des accédants : un territoire prestigieux, apprécié pour sa douceur de vivre à deux pas des agglomérations de Bayonne, Anglet, Biarritz et du littoral basque.
Idéalement situé dans le centre bourg de Bassussarry, la résidence Belatza offre une vie plus douce à proximité immédiate des commerce et services et des principaux équipements de la commune accessibles à pied en quelques minutes : crèche, école primaire, centre de loisirs, supermarché, pharmacie, restaurants, salle de sport, golf...
Retrouvez à proximité :
Bayonne et Anglet à 5 min
Biarritz et les plages de la Côte basque à 10 min
L'Espagne à 20 min
Pau & Bordeaux à 1h30min
Bassussarry offre la garantie d'un placement durable, idéal pour un investissement locatif ou l'acquisition d'une résidence principale à quelques minutes seulement de Bayonne, Anglet et Biarritz.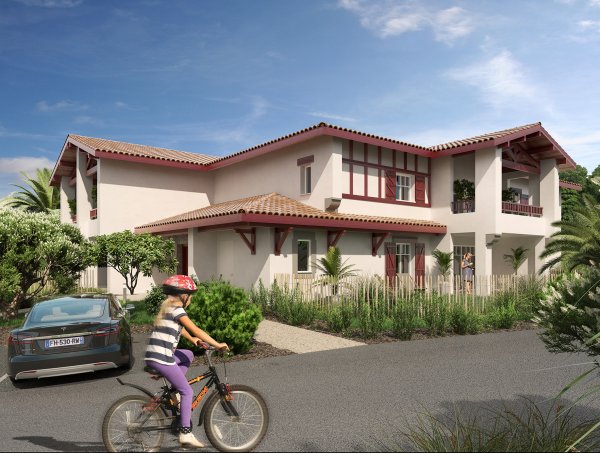 Transports

Shops
& services
Education
& culture
Sports
& hobbies
The property has a price

discover it right now
Apartment

2 rooms
Up to 46 m2
Starting from 270 000 €
Lot N°
surface
Annexes
price
plan
Lot C100 - 44.65 m2 - 270 000 €
Lot C106 - 45.56 m2 - 290 000 €
surface 46 m2
-
Contact us
Lot B04 - 45.26 m2 - 290 000 €
Apartment

3 rooms
Up to 65 m2
Starting from 365 000 €
Lot N°
surface
Annexes
price
plan
High demand!
Lot B01 - 65.17 m2 - 365 000 €
Lot B100 - 65.18 m2 - 365 000 €
Lot C02 - 65.47 m2 - 375 000 €
Sales office
Advice, questions?
We meet with you,
you see more clearly.
Contact us
05 59 50 02 17 ou 06 20 10 77 47
Similar programs
Wishing to access more choices?
We offer, you find.